Words at War - Old Time Radio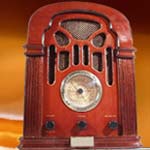 Words at War arrived on the air on June 24, 1943 in the midst of the fiercest time in World War II. The United States was halfway into its participation in the war when the only certainty was that the outcome was uncertain. For instance, one 1944 episode, "Nazis Go Underground" asks, "Is this the end of the war or just the beginning of the next?"
With a partnership between Johnson's Wax and the Council on Books in Wartime, NBC ran the 30-minute long episodes for the duration, ending on June 5, 1945. The show presented a blend of nonfiction and fiction that described horrors inflicted upon innocent civilians, the pitch of battles on several fronts around the world, dramatized recitations of letters penned by soldiers to family back home, reports of war criminals and punishment, and more.
The large cast included film stars Richard Widmark, Sam Wanamaker, Everett Sloane, Ed Begley, and radio regulars Jackson Beck, Frank Lovejoy, and Betty Caine, Luis Van Rooten, and many others. Their dramatizations and narratives kept listeners informed about actual events during this dark time. Words at War offers a valuable set of historical anthologies about the great global conflict.

There are 88 shows in our collection!
Date Aired
Dynamate Cargo
September 2, 1943
Battle Hymn of China
September 30, 1943
Eighty Three Days
October 5, 1943
Paris Underground
October 12, 1943
Shortcut to Tokyo
October 19, 1943
Who Dare to Live
October 26, 1943
Here Is Your War
November 2, 1943
To All Hands
November 9, 1943
Escape from the Balkins
November 23, 1943
Hail Caesar-El Duce
November 30, 1943
Book of War Letters
December 7, 1943
Mother America
December 14, 1943
They Shall Not Have Me
September 23, 1943
Since You Went Away
September 16, 1943
Last Days of Sevestopol-repeat
August 19, 1943
Firm Hands Silent People
July 31, 1943
They Call It Pacific
July 10, 1943
Escape from the Balkins
November 23, 1943
Malta Spitfire
August 21, 1943
Love at First Flight
August 14, 1943
Prisoner of the Japs
August 7, 1943
The Ship
July 24, 1943
The Last Days of Sevestopol
July 17, 1943
Combined Operations
June 24, 1943
Log Book-British Merchant Marine
December 21, 1943
AND MANY MORE



Other Vintage Radio You'll Like:
Try these other Old Time Radio Shows out for size!